Previously Held October 13, 2023
Flowing Water Navajo Casino
Who says nothing good ever happens on Friday the 13th? On Friday, October 13th, Flowing Water Navajo Casino invites you to help them celebrate their lucky 13th Anniversary with a live outdoor performance and a t-shirt giveaway!
Event Information
Flowing Water Navajo Casino
2710 US-64 Shiprock, NM 87420
No charge for special concert
505-368-2300
The Flowing Water Navajo Casino is ready to celebrate their 13th year in business with a two-part celebration on Friday, October 13th!
1:00pm 13th Anniversary T-Shirt Giveaway
In honor of Flowing Water's 13th Anniversary, they will provide an opportunity for players to participate in the 13th Anniversary T-shirt Giveaway! After earning 13 points, Club Members may participate by swiping their cards at any promotional kiosk to receive a t-shirt! T-shirt redemption takes place at the Players Club. Giveway begins at 1:00pm and lasts while supplies do!
7:00pm Hopi Clansman Band
The Hopi Clansman Band will be performing along the north side of casino property. Please bring your own chairs to sit in. Free concert. 21+ event.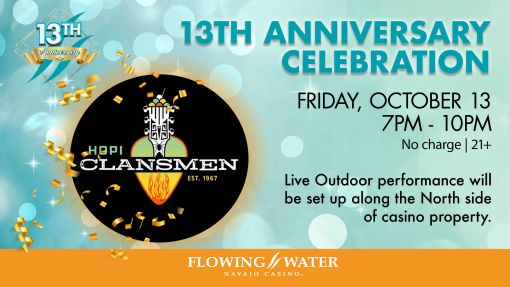 We Also Recommend
---
Nizhóní Soaps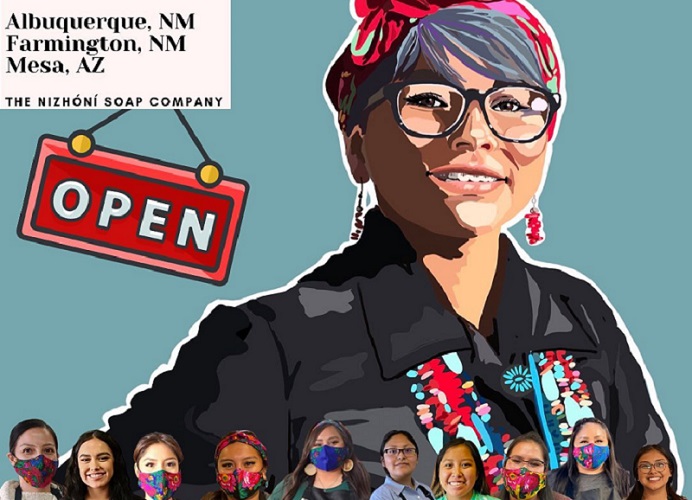 The Nizhóní Soap Company is a Navajo owned, women-led business created by 14 year old Kamia Begay from the Navajo Nation. They infuse hand-picked herbs like Navajo Tea, Juniper, and Cedar into their handmade soaps and scrubs in hopes of sharing the wonderful smells and sights from the Navajo Nation with the world.
Learn More
»
220 W. Main Street, Farmington, NM
505-608-5183