Farmington's Outdoor Summer Theater
Sandstone Productions Presents
Mary Poppins
June 21 - August 4, 2018
Farmington will celebrate 30 years of Outdoor Summer Theater at Lions Wilderness Amphitheater this year! We invite you to join the celebration and enjoy an evening of live entertainment under the beautiful New Mexico stars in a natural sandstone amphitheater as Sandstone Production presents the beloved classic, Mary Poppins. This magical family musical is based on the series of children's books by P.L. Travers and the 1964 Disney film starring Julie Andrews and Dick Van Dyke. Tickets go on sale on April 1, 2018 and may be purchased online.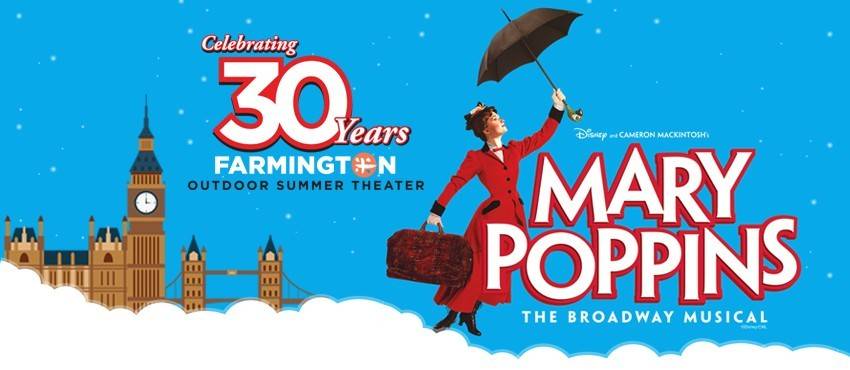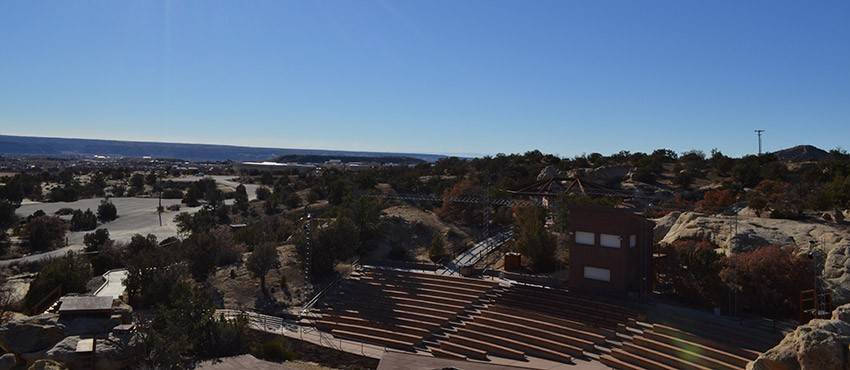 Mary Poppins
One of the most popular Disney movies of all time is capturing hearts in a whole new way: as a practically perfect musical! Based on the books by P.L. Travers and the classic Walt Disney film, Disney and Cameron Mackintosh's Mary Poppins delighted Broadway audiences, received nominations for nine Olivier and seven Tony Awards, including Best Musical. Mary Poppins is an enchanting mixture of irresistible story, unforgettable songs, breathtaking dance numbers and astonishing stagecraft.
In the tale of Mary Poppins, jack-of-all trades, Bert, introduces us to England in 1910 and the troubled Banks family. Young Jane and Michael have sent many a nanny packing before Mary Poppins arrives on their doorstep. Using a combination of magic and common sense, she must teach the family members how to value each other again. Mary Poppins takes the children on many magical and memorable adventures, but Jane and Michael aren't the only ones upon whom she has a profound effect. Even grown-ups can learn a lesson or two from the nanny who advises that "Anything can happen if you let it."
Tickets
Performances are held 8:00 to 10:00 p.m. every Thursday, Friday and Saturday evening from June 21 to August 4, 2018. Tickets may be purchased online at www.fmtn.org/Sandstone, at the gate the night of the performance or in advance at the Farmington Civic Center. As performances can sell out early, it is recommended that you purchase tickets in advance. For ticket information call the Farmington Civic Center Box Office at 505-599-1148, 505-599-1144 or 1-877-3331.
Tickets Prices
Adult ticket $12
Senior ticket $8 (62 & over)
Student ticket $8 (13 - 18)
Child ticket $7 (12 & under)
Group rate $10 (when purchasing 10+ adult tickets)
Concessions
Concessions will be available onsite. Wines of the San Juan will be selling wine and beer at the Friday and Saturday shows this summer.
Directions
Lions Wilderness Amphitheater is located within Lions Wilderness Park, west of the Main Street and Pinon Hills Blvd. intersection in Farmington. From Main Street (NM-516), turn onto Pinon Hills Blvd. Travel west on Pinon Hills Blvd. 1.9 miles, turn right onto College Blvd. You will pass the main entrance for Piedra Vista High School (PVHS). Turn right at the turn off after PVHS. If you arrive at Sandalwood Drive or the BLM Farmington Field Office you have gone about one-half mile too far.
Summer Theater Productions
Heather McGaughey Children's Theatre
Schoolhouse Rock Live! Jr
The mission of the Heather McGaughey Children's Theatre is to build the love of theatre and promote self-confidence and teamwork skills in Farmington's youth. The goal is to provide Farmington youth with basic theatre training and the opportunity to perform with Sandstone Productions. Students will focus on five key areas: The Actor's Process, Musical Theatre and Character Development, Theatrical Movement, Devised Theatre and Scenic Design. The 2018 production is Schoolhouse Rock Live! Jr. Performances will be held on June 27 and July 25 at Lions Wilderness Amphitheater.
Heather McGaughey Teen Voices
Legally Blonde, Jr.
Teen Voices is designed for teenagers who wish to explore creativity within various roles of theatre. Teens are mentored by professionals as they receive hands-on experience in theatrical production ranging from positions on-stage to back-stage to technical operations. Teens will acquire skills such as set building, prop creation, choreography, vocal performance, acting and much more. Teens will express their creativity, as well as collaborate with their peers to produce a theatrical show. The 2018 production is Legally Blonde, Jr. and the performance will be held on July 23 & 24 at 7:00 p.m.at the Farmington Civic Center.
Visit Farmington
When you join us for an outdoor summer theater performance, we hope you take time to enjoy the many things there are to see and do in the Farmington area! Start exploring today with these helpful links:
Order your Free Vacation Guide
Where to Stay
Where to Dine
Where to Shop
Where to Play