Sandstone Productions Presents
All Shook Up
June 20 - July 27, 2019
Farmington will celebrate 31 years of Outdoor Summer Theater at Lions Wilderness Amphitheater this year! We invite you to join the celebration and enjoy an evening of live entertainment under the beautiful New Mexico stars in a natural sandstone amphitheater as Sandstone Production presents All Shook Up, as inspired by the music of Elvis Presley and the book by Joe DiPietro.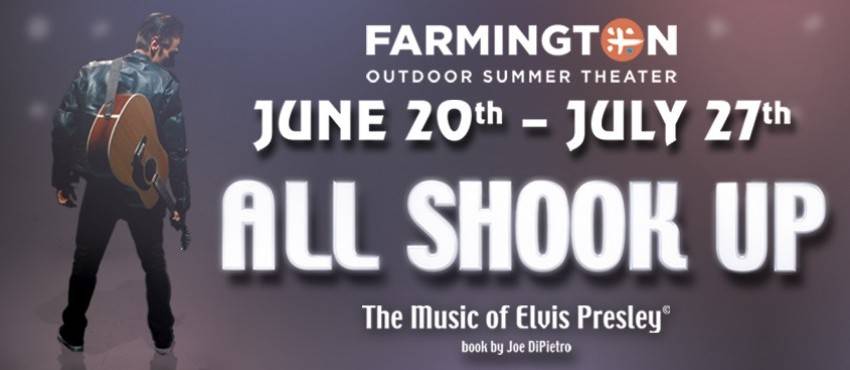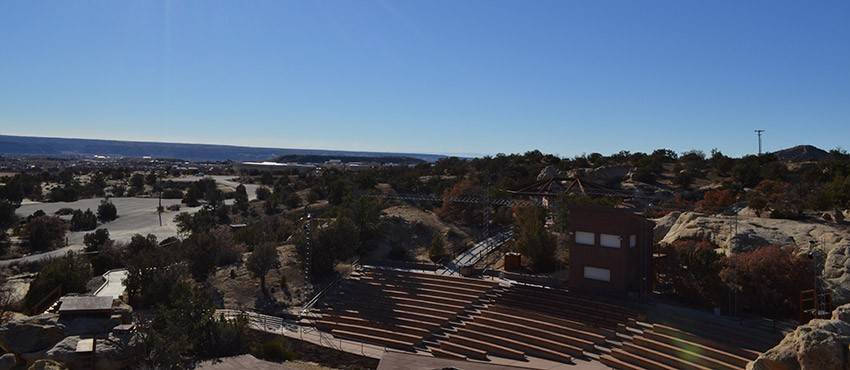 All Shook Up
All Shook Up is a new musical comedy built around a number of songs made famous by Elvis Presley. It's not a biographical revue. It takes place in 1955, somewhere in middle America, where one girl's dream and a surprise visit from a mysterious leather-jacketed, guitar-playing stranger help a small town to discover the magic of romance and the power of rock & roll. Among the 24 songs featured in the score are classics like "Heartbreak Hotel," "Love Me Tender," "Don't Be Cruel," "Can't Help Falling in Love," and of course the title tune.
Tickets
Performances are held 8:00 to 10:00 p.m. every Thursday, Friday and Saturday evening from June 20 - July 27, 2019. Tickets may be purchased online, at the gate the night of the performance or in advance at the Farmington Civic Center. As performances can sell out early, it is recommended that you purchase tickets in advance. For ticket information call the Farmington Civic Center Box Office at 505-599-1148, 505-599-1144 or 1-877-3331.
Tickets Prices
Adult ticket $12
Senior ticket $8 (62 & over)
Student ticket $8 (13 - 18)
Child ticket $7 (12 & under)
Group rate $10 (when purchasing 10+ adult tickets)
Concessions
Concessions will be available onsite. Wines of the San Juan will be selling wine and beer at the Friday and Saturday shows this summer.
Directions
Lions Wilderness Amphitheater is located within Lions Wilderness Park, west of the Main Street and Pinon Hills Blvd. intersection in Farmington. From Main Street (NM-516), turn onto Pinon Hills Blvd. Travel west on Pinon Hills Blvd. 1.9 miles, turn right onto College Blvd. You will pass the main entrance for Piedra Vista High School (PVHS). Turn right at the turn off after PVHS. If you arrive at Sandalwood Drive or the BLM Farmington Field Office you have gone about one-half mile too far.
Visit Farmington
When you join us for an outdoor summer theater performance, we hope you take time to enjoy the many things there are to see and do in the Farmington area! Start exploring today with these helpful links:
Order your Free Vacation Guide
Where to Stay
Where to Dine
Where to Shop
Where to Play
2019 Summer Theater Productions
Heather McGaughey Children's Theatre
Lion King Kids
The mission of the Heather McGaughey Children's Theatre is to build the love of theatre and promote self-confidence and teamwork skills in Farmington's youth. The goal is to provide Farmington youth with basic theatre training and the opportunity to perform with Sandstone Productions. Students will focus on five key areas: The Actor's Process, Musical Theatre and Character Development, Theatrical Movement, Devised Theatre and Scenic Design. The 2019 production is Lion King Kids. Performances will be held June 27 and July 31 at Lions Wilderness Amphitheater.