Talks-A Lot-Tours offers guided tours of the National Parks and Monuments found in the Four Corners region.
Mancos, CO
970-739-6037
talksalottours@gmail.com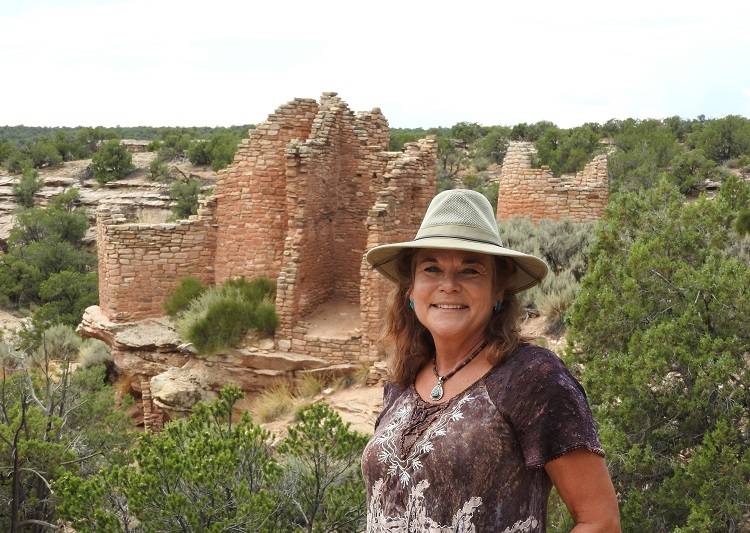 Remote Safe Distancing Tours - Your vacation does not need to end.
Canyon of the Ancients is Awaiting Your Arrival
Take an All Day tour with Talks-A Lot-Tours in Southwest, Colorado, and Utah.
Travel the same distance from Farmington, NM as Chaco Culture National Historic Park.
See Pueblo archaeological sites close up with expert knowledge of 27 years.
Sites include - Lowry Pueblo National Monument, Painted Hand Site, Hovenweep National Monument, Three Kivas, Petroglyphs, and more.
Contact talksalottours@gmail.com / (970) 739-6037
Sara Broersma of Talks-A Lot-Tours has 25 years of experience in interpretive guided tours. She offers professionally guided tours that are sure to help you discover the beauty and history of the Four Corners region. In 2016, she led her interpretive team to win the Trip Advisor Certificate of Excellence in the Adventure Category. A high school teacher, NAI Certified Guide, and Trainer, Sara is the best in the west. Call Sara for a custom half or full-day guided tour of the Four Corners archeological sites. Allow Sara to share her "backyard" with you, leaving a sense of living as an Ancestral Pueblo would have from A.D. 400-1300.
Guided Tours Offered
Mesa Verde National Park
Chaco Culture National Historical Park
Aztec Ruins National Monument
Build Your Own
Guided Tour Fees
All rates are flat-rate fees, they are not based per person
$250 / day for up to 8 hours for Interpretive Tour Guide Service in guest's vehicle
$200 flat-rate fee Step On Coach Travel groups for 4-hour tour
Additional fees
$150 / day for transportation with fuel (1-8 passengers)
$200 / day for the rental of a 14 passenger van with fuel (9 - 14 passengers)
Park passes at all locations and site tickets in Mesa Verde National Park are in addition to the fees noted above. Lunch options will be discussed at the time of booking. Complimentary water is included. Gratuity is always welcome and appreciated.